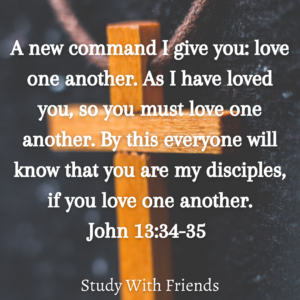 At the beginning of October 2020, I set myself a goal to read through the whole Bible in 90 days. I didn't succeed, only getting halfway through, but I learned a lot about God and myself during those 90 days.
I have been a Christian all my life and have loved and read God's word regularly. I have read through the whole Bible several times, always using a Bible Reading Plan that broke the text into manageable readings for each day. This time I tackled my reading differently. I tried to read each book in one sitting, or in the least number of days I could manage.
As I read through each book and found many familiar passages and verses, it struck me the number of times I had an incorrect understanding of the context. One of the most significant examples of this was when I came across 1 Corinthians 13, the love chapter.
I love 1 Corinthians 13. It is a beautiful, challenging and practical picture of what love means and how we should behave toward one another. It is read at many Christian weddings as we celebrate the love of husband and wife and encourage newlyweds to build their marriage on principles of godly love.
But when you sit down and read through the whole letter Paul wrote to the Corinthians (it takes about an hour) and put chapter 13 in its place you realize that Paul isn't writing about the love of a husband and wife. He is not addressing marriage or family relationships, although the principles still apply. Paul is writing about the Church.
1 Corinthians is a letter to a church family who was struggling. Paul gives them clear instructions about how to worship, use their spiritual gifts, remain sexually pure, and value unity amongst a diverse group of people. The whole letter offers clear and practical instruction about how to be a community of Christ-followers, and chapter 13 fits right in.
1 Corinthians 13 teaches us how to treat each other in the Church, not just in our home.
We have just celebrated St Valentines Day. I hope you have received expressions of love from family and friends around you. Love is worth celebrating! But loving the people who are close to us is not enough. Paul calls us to a much higher standard. He is calling us to apply the same high standard of love we talk about at weddings to all of those in the family of God.
Be patient and kind. Do not envy, boast or be proud. Do not be dishonourable, self-seeking or get angry easily. Don't keep a record of wrongs. Rejoice in truth. Always seek to protect one another, trust, hope, and persevere.
As I watch the news around the world today, my heart grieves for the lack of godly love among those who claim to be followers of Jesus. And, when I am honest, I recognize the same judgment and cynicism in my own heart. I see what other Christians are doing, or at least what they are reported to be doing, and my heart fills with outrage, not love. We can be quick to find faults in others, and slow to listen and understand people who are different from us. I confess my struggle to love and ask God to teach me to love the way He does, with patience and kindness.
Not long before Jesus went to the cross, He told His disciples, "A new command I give you: Love one another. As I have loved you, so you must love one another. By this everyone will know that you are my disciples, if you love one another" (John 13:34–35 NIV).
Everyone should know we are Jesus followers because of the way we love each other. This is what we should be famous for. When Christians are on the news, it should be because of our outrageous expressions of love, as described in 1 Corinthians 13.
If you have a moment today, read through the love chapter, and rather than thinking about your spouse, think about your church family. Be open to the challenge of the Holy Spirit and ask for God's love to fill your heart. Take some time to consider what you are known for. Are you famous for your love? For without love, we are just like a resounding gong or a clanging cymbal.
Christine is a writer who packed up her city life to live in an RV and travel full-time around Australia with her husband. Christine writes about faith, self-care, and simple living in her blog, Living with Margins. For more blogs from her, click here. You can listen to our Bible studies by tuning in to your favorite radio station, listening to our podcast on iTunes, or listening through TuneIn, Spotify, or Stitcher online radio.  You can also watch us on YouTube.