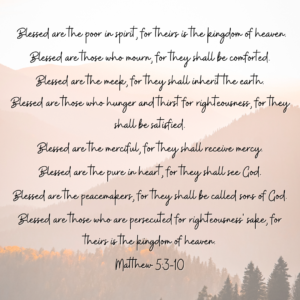 The Beatitudes are a set of eight blessings found in the Sermon on the Mount. They begin with "Blessed are the poor in spirit, for theirs is the kingdom of heaven" and end with "Blessed are those who are persecuted because of righteousness, for theirs is the kingdom of heaven" (Matthew 5:3,10, NIV). These words were spoken by Jesus to His disciples and have been studied by Christians ever since. Let's take a look at how we can apply them to our lives today.
What Are the Beatitudes?
Simply put, the Beatitudes are promises made by Jesus to his followers about what kind of life they should live. They teach us that when we embrace humility and kindness, we can experience true joy and peace even in the midst of suffering. The Beatitudes also show us that God rewards those who remain faithful despite external pressures or adversity.
How Can We Apply Them Today?
The teachings from the Beatitudes can be applied to our modern-day lives in a variety of ways. For example, embracing humility means valuing and respecting others more than ourselves; it also means being willing to admit when we're wrong and asking for forgiveness when necessary. Kindness means not only being generous with others but also being compassionate towards ourselves, taking time to rest and recharge when needed. This kind of self-care is essential for physical, mental, emotional, and spiritual health.
The Beatitudes also remind us that true joy can be found even in difficult times – something that is especially important during times of hardship or crisis such as a pandemic or economic downturns. By remembering these blessings each day, even during hard times, we can keep our faith alive and find strength in knowing that God will always provide comfort and hope if we seek it out.
The Beatitudes offer a timeless reminder that even if things seem difficult right now, God is still present with us each day, offering hope and blessing us through His grace and mercy. As Christ-followers, it's important to remember this promise so that we don't become overwhelmed by life's challenges but instead stay focused on living out His word each day through acts of kindness, humility, bravery, mercy, justice—and most importantly—love!
For a greater understanding of the Beatitudes, join us for our series on the Sermon on the Mount