This past weekend I had the opportunity to celebrate the life of 5 people that I love so dearly. The celebrations were drastically different, yet both left me with the same feeling in my heart.
On Saturday, I celebrated the life of a beloved friend who fought a rather short and aggressive battle with cancer. Family and friends gathered to pay tribute to the beautiful woman that she was, and more importantly the woman she had become.
Annette was not always a follower of the Lord. Her journey was long and tedious. She studied the Bible from cover to cover with many deep questions and thoughts. In 2014, Annette recommitted her life to the Lord and started her Christian walk surrounded by many brothers and sisters in Christ.
Much like us, Annette was surrounded by unbelievers as well. At her memorial service Annette's message and faith journey was shared in many accounts. Celebrating her life beside believers and among unbelievers was filled with so much hope:  hope that Annette's 180-degree turn in deciding to walk with Jesus would spark a light in one of her dear friends who has not yet experienced that joy.
In Psalm 23:2-3 it says, "He leads me beside still waters. He restores my soul. He leads me in paths of righteousness for his name's sake." Annette's soul was restored and I left her memorial service reminded of the peace we are given through Christ, that we will one day reunite with our brothers and sisters in heaven.
On Sunday, I had the tear-filled job of saying goodbye to four people who have become some of my dearest friends over the past 6 years. Our families have grown so very close and saying it was hard to let them go is an understatement.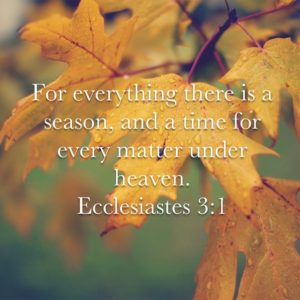 We walked out to their car and gave our final hugs goodbye to the sweet little girls and their remarkable mom and dad. Through the tears and my, well, "ugly cry" I managed to mutter out that I really was excited for them in this next journey. Hard to tell among the tears, perhaps!
Their next journey will take them a few states away to another place of worship where they will continue to grow and thrive in the life of ministry for our Lord. How can you not be excited about that?!
Selfishly, in both situations I wanted my sweet friends and my friend, Annette, to stay here, in Pennsylvania, so that I could see them, laugh with them, hug them and love them. I have been extremely blessed to know every single one of them. God placed each of them in my life at what, looking back, was the most perfect timing.
God's timing is ALWAYS perfect. It is our job to sit in the passenger seat, let Him take the wheel and be intentional about watching for those perfect moments. Ecclesiastes 3:1 says, "For everything there is a season, and a time for every matter under heaven."
In any situation, whether it is the death of a loved one, a dream job, looking for your soul mate or saying "see you later" to a friend, look for God. Remember that His plan will not fail you. This does not mean that His plan does not include many tears or heartache. It means that at the end of that pain, He promises us something that was worth the wait.
I am so grateful for the season God has given me with both Annette and the Ortegas.  I am filled with joy in knowing that my journey with each one of them is not yet over.  What a blessing it is to hold on to that hope in the name of Jesus.
Brittany Brown is a recent college graduate and elementary school substitute teacher praying for her own classroom! She loves watching God's messages pour out through little kids and listening to their pure perspectives on life. You can hear more from Brittany by listening to our Bible study The Power of Prayer.