Let each generation tell its children of your mighty acts; let them proclaim your power.  I will meditate on your majestic, glorious splendor and your wonderful miracles.  Your awe-inspiring deeds will be on every tongue; I will proclaim your greatness.   Everyone will share the story of your wonderful goodness; they will sing with joy about your righteousness.  Psalm 145:4-7

Our family recently had the opportunity to be a host family for two foreign high-school students.  What an amazing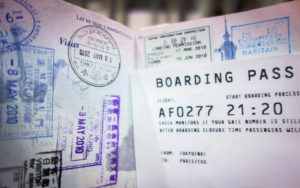 adventure sharing their experiences including many 'firsts'.  Every day happenings that were no big deal to us were moments of joy and amazement for them. Their wonder and joy got me thinking.  Was I that amazed and joyful at life's moments?  What was my reality?
You may say well sure they will think everything is great–this is America after all! What's not to love?  To be sure our country has much to offer.  They know this.  But they were exuberant none the less.  There was something to be learned from their joy.
How do we lose the zeal in life? The truth is, day in and day out, life can become rote and predictable. We see the same coworkers, tell our kids to get ready for school again, drive the same road to get to work and on and on!  If we aren't careful we can allow the routine, the decisions we regret, failed expectations and busy schedules that fill our life  define us.  Rather than having an anticipation that says how can I serve others today we allow the bitterness and anger we've stuffed deep down in our hearts to rule resisting the command to love and serve. Before we know it days, months even years can slip by without the slightest hint of exhilaration for tender moments, the miracle of breath or the victory in a life long lived.
At times we have all been guilty of this.  I know I have. It takes my intentional choice every day to choose to live with God and for God.  Asking Him to open my heart to see what HE wants me to see, do or experience that day.  Allowing my thoughts to be God-centered not poor-me centered. Through life's good times and bad, not allowing the routine to rule me but rather choosing to direct the moments of my life with His praise.
These moments by moments of praise and wonder create joy and peace which define and beautify our lives.  His peace and praise in me creates a place for others to see Jesus. Even in the everyday of our lives, our connection to Him is all that we need to live and move and have well–being.
Thankfully God is merciful and works with my weakness to jolt me into a reality that speaks to my heart and helps me to 'wake-up'.  To take a fresh view of the amazing people, places and pursuits which define life. God's reality: majesty, wonder, miracles and love that create the masterpiece of every life.
God thunders with His voice wondrously, doing great things which we cannot comprehend.  Job 7:5
Blessed be the Lord God, the God of Israel, who alone works wonders. And blessed be His glorious name forever; and may the whole earth be filled with His glory. Amen and Amen.  Psalm 72:18-19
Terry's greatest gift is her relationship with Jesus who miraculously orchestrates her life and gives her the privilege to be His hands and feet to the world around her.  In turn she is richly blessed.