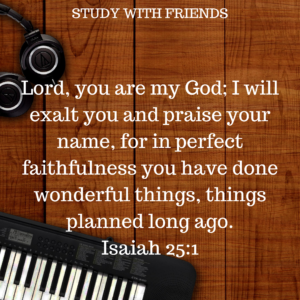 "Lord, you are my God;
I will exalt you and praise your name,
for in perfect faithfulness
you have done wonderful things,
things planned long ago."
Isaiah 25:1 (NIV)
Y'all, lately I am feeling overwhelmed by noise.
The noise of my twin toddlers, fighting over a shared toy in the background.
The noise of media, headlines flashing, blaring increasing cases of COVID-19, increasing hospitalizations.
The noise of political unrest.
The noise of racial discrimination.
It's deafening, but I'm drawn towards it.
It's easier to be overwhelmed and consumed by the noise, than to sit in the deafening quiet.
Today, my prayer is that my praise can be louder than the noise.
So that, above all the noise, when I speak, the world hears Jesus.
So that, in the quiet, my spirit exudes grace.
So that no matter what my worries are, what my problems are, my worship is bigger.
"Sing a little louder, in the presence of my enemies.
Sing a little louder, louder than the unbelief.
Sing a little louder, my weapon is a melody.
Sing a little louder, heaven comes to fight for me.
I'm gonna sing, in the middle of the storm
Louder and louder, you're gonna hear my praises roar
Up from the ashes, hope will arise
Death is defeated, the King is alive."
Raise A Hallelujah– by Jonathan David Helser, Melissa Helser, Molly Skaggs, & Jake Stevens
Sarah is a wife, mom of twins, runner, biker, dog lover, and daughter of Christ. Balancing the life of a working mom, she runs on words of encouragement, baby snuggles, and caramel macchiatos.  For more from Sarah look here. Check out and listen to any of our Bible studies here. Tune in to your favorite radio station, listen to our podcast on iTunes, or listen through TuneIn, Stitcher or Spotify.