Do you remember shopping for your first car?  I was a new college graduate looking around at all the possibilities when I approached my dad, "Will you help me shop for a car? I've seen one I really like."  We went to the lot where we test drove the blue 1991 Toyota Tercel with a manual transmission that I had spotted.  Afterwards, Dad and I sat in the car discussing the pros and cons of that particular model; the conversation included a lot of my expressing why I thought this car would be a good choice.  Then I asked Dad if we could go to several more dealerships and test drive other options.  With a smile, he replied, "Sure.  I'll take you to as many places as you want to go.  Then we'll come back here and buy this one."  And that's exactly what we did!  Dad knew I had already made up my mind, but was patient as I explored other choices.  The purchase wound up being a wise decision and that car lasted through my first job, the newlywed years, and beyond.
Isn't that just like our heavenly Father?  I can imagine him patiently smiling while I mull over decisions, explore options, read endless articles, consult friends and family.  Somehow he uses that to patiently guide me to the right choice.  Sometimes, I wish I would have asked for his guidance sooner and avoided the stress caused when I feel I need to wrangle every bit of information about a topic (internet searches should have a time limit).  Always, though, he uses the process to build my relationship with him.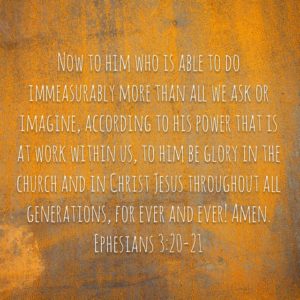 During our lifetimes, we make a lot of important decisions:   Where should I live? Which job offer should I accept? Is he "the one"?  Which school should we choose for our child?  What is the best way to help my aging parents?  I'm so thankful God is patient with me as I process and ponder.  I just need to make sure I'm allowing him to guide my exploration, so he can lead me to the choice he has in mind…it may be something I haven't even considered.  In fact, the Bible calls the Lord "him who is able to do immeasurably more than all we ask or imagine" (Ephesians 3:20).
So I encourage you to invite God into whatever is dominating your thoughts today.  I don't know where he will lead you, but I do know that he loves father-daughter moments.
Cindy is a blog contributor and board member at Study With Friends Ministries.  She is part of our weekly radio program, a unique format of 4-5 different women each week, gathering around the Bible to study God's Word.  We hope you find the organic conversation and authentic personalities refreshing. Tune in on your favorite radio station, listen to our podcast on iTunes, or listen through TuneIn or Stitcher online radio.  You can also listen on our website.