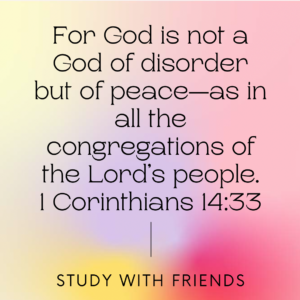 Facials
Games
Singing
Dancing
Paint night
Tea parties
Group exercise
A chocolate fountain
Crafting (with remedial help in my case!)
Women wrapping each other in toilet paper
Where would you find all of these things? At an event I look forward to each year…my church's women's retreat!  One of my favorite retreat activities was choosing a word for the year.  The basic idea is that you pick one word to focus on throughout the year.
After doing this the previous January at our retreat, I wanted to single out a word for 2020.  I had a word in mind and, with the encouragement of a friend, began to think and pray about it.  I don't even remember what my original word was, but I had a clear sense that God wanted me to select a different word…"perspective".  So I went with it.  Little did I know how appropriate that word would be for the year ahead!  What I did know was that our plans for 2020 included cheering on both our son and younger daughter during their college lacrosse seasons, celebrating the marriage of our oldest niece, watching our son and his fiancée graduate from college, traveling to see our daughter's fiancé graduate as a Physician's Assistant, holding and kissing another niece's first baby, and most notably enjoying the weddings of our two oldest children along with all of the fun pre-wedding gatherings and activities. Clearly, God had different plans.
As spring and summer brought disappointments, tears, and change after change to carefully laid plans, I certainly learned a lot about keeping things in perspective and I know I'm not alone in that.  With so much heartache being experienced by so many, I spent a lot of time thanking God that our family and loved ones were healthy and employed, regardless of how different that looked.
When I am able to remember what is or isn't worth getting upset about it certainly makes life better for me.  And infinitely better for those around me…just saying.  But that wasn't the only thing God taught me as I focused on "perspective" throughout 2020.  In Zechariah 2:5 I read the Lord's declaration that He himself will be a wall of fire around Jerusalem as well as its glory within.  I felt like God was showing me how my life looked from His perspective whether or not I could see it at the time.
Later, 1 Corinthians 14:33 (NIV) taught me that "God is not a God of disorder but of peace…".  I think God was talking to me about the thoughts which tend to swirl around inside of my own head, rather than anything that was going on around me or elsewhere in the world.  When I'm able to remember that, I can better identify whether thoughts are from God or whether they should be dismissed or even rebuked.
And toward the end of the year, I noted 2 Peter 3:9 "The Lord is not slow in doing what he promised—the way some people understand slowness. But God is being patient with you. He does not want anyone to be lost, but he wants all people to change their hearts and lives" (NCV). So encouraging!
After taking this all in and eventually turning the page on 2020, I look forward to what lessons this year has in store.
My word for 2021 is "rest".
Cindy is a blog contributor at Study With Friends Ministries.  If you enjoyed this blog, you may be interested in other ones by Cindy. You can also listen to our Bible studies by tuning in to your favorite radio station, listening to our podcast on iTunes, or listening through TuneIn or Stitcher or Spotify. We are now on YouTube as well!