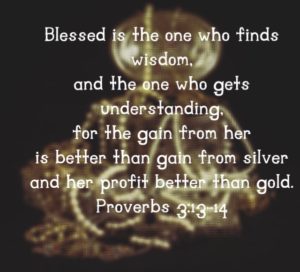 I love my job. LOVE. I am a Pediatric Physical Therapist, and get to work with some of the world's greatest kids. I get to sit with families in some of their darkest hours, and hold their hands, educate them, and love their kids through it all. The best part of my job is when we get to the other side—when I get to see these kids who were told they would never walk actually take their first steps, or watch a child who hasn't stood for months get out of bed and stand independently. Or just sing Frozen and play Connect 4. My job rocks.
But one of the hardest things about my job is seeing all the suffering my kids go through. Sometimes life isn't fair. Sometimes life reeks
But sometimes I get to meet these kids in their tough places and make an impact that lasts forever. Recently, I was working with a kid who was stuck in a low spot. She mentioned that she got her Bible out the other night to read to help her find faith. We started talking about our favorite verses. From quoting John 3:16 to Proverbs 3:5-6, to quizzing me on the shortest verse in the Bible ("Jesus wept." -John 11:3), this 10 year old knew her stuff.  She told me her favorite character in the Bible was Solomon. When I asked her why, she said that 'Solomon prayed and prayed, and could have asked God for anything, but he chose wisdom. I told her, I thought for a 10 year old who got dealt a pretty cruddy card, she sure had a good handle on wisdom.
My pastor recently described wisdom as "Learning to navigate the realities of life when rules don't help." Thinking back on my prayer life over the past few months, I think my prayers should probably have mimicked Solomon's a bit more. Praying for wisdom is a lot different than just praying for what we want. Praying for wisdom to me sounds more like praying that God will take the reins, and I'll have the wisdom and patience to wait for his plan to be revealed to me. Rather than praying for the outcome I want, praying for wisdom in the decision-making process. Instead of praying for that job change or relationship change, actually praying for wisdom on how to handle and approach the situation.
Proverbs 3:13-15:  "Blessed is the one who finds wisdom, and the one who gets understanding, for the gain from her is better than gain from silver and her profit better than gold. She is more precious than jewels, and nothing you desire can compare with her."
So this week, I challenge you all to pray for wisdom and see how God works in your hearts to shape and mold you.
Sarah lives in North Carolina with her husband and enjoys connecting with God through nature, worship, and community with others. For more inspiration, you may enjoy listening to our Study With Friends Bible studies. Tune in to your favorite radio station, listen to our podcast on iTunes, or listen through TuneIn or Stitcher online radio.