If you're like me there are times when you wonder if your life matters.  You ponder if you are making a difference in the lives of people around you. Turning fifty got me thinking about the years of my life that have passed and what influence I have made in the lives others.  Maybe you have experienced this yourself.  Can just one person have that much abiding influence in (a) life?  I think the answer is yes!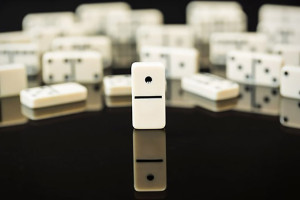 Our lives are the collective experiences largely characterized by the people who have influenced us one way or another. In fact our very personalities are in part shaped by those who have influenced us.  We could all recount who has shaped us for the good and not so good.  The reality is we could get bogged down in what we think we didn't get or look to influence others with what we do have.
Let's face it, we live in a success driven world.  We are tempted to think our influence is only as good as our particular intelligence, great looks or talent will deliver. We are duped into believing it's about us.  If we believe this lie we are grossly underestimating God.   We are trained to think the custodian would never have as much influence as the CEO of a Fortune 500 company. Could a cleaning lady have as much influence as a famous NFL player?  What about the homeless man who has nothing but serves meals at the local soup kitchen?
I believe the greatest influence we have is not really about us at all. It's not about our higher education, our title, our awesome style or lack thereof.  It's not about how shy you are, your lack of connections or your sparse bank account.  The greatest influence we have is all about God and what He has placed in us to share with others.  It's about Him-His love which was given to us first.
We love because God first loved us. I John 4:19
He gave His love to us first so we can give this first.  God provided this love for us through His Son Jesus Christ.  Even when we did not deserve it, He gave it anyway. Demonstrating this love provides exactly what is needed to make enduring deposits into the lives which we are called to impact.
But God demonstrates His own love toward us, in that while we were yet sinners, Christ died for us. Romans 5:8
Like Christ, we can unselfishly choose to demonstrate love in and through our lives. We need to reject the human tendency to evaluate what we have to give by comparing it to   what we think we're lacking. WE will never be enough but God's love is.  We can be  free to be used by God to love others-to be God's hands to influence another for His glory.  That is the greatest influence!
Terry's greatest gift is her relationship with Jesus who miraculously orchestrates her life and gives her the privilege to be His hands and feet to the world around her.  In turn she is richly blessed.