"Mom, I want to study abroad next semester."
Sounds innocent enough, right?  But she had something specific in mind.  As I write this, my daughter is enjoying a semester abroad…in Rwanda, Africa.  No, there was no talking her into a semester in Europe.  So my husband and I prayed.  We prayed about whether we should allow her to apply.  We prayed that she would only be accepted into this particular program if it was where God wanted her to be.  We prepared, packed, and prayed for safe travel.  I was reminded by a friend during this process just how much safer it is for my daughter to be far away from me and in the center God's will than for her to be where I felt comfortable.  So true!  And I have relied heavily on that nugget of wisdom.  Yet, like many other mothers, I am prone to worry about my children and these four months are proving to be no exception!
This morning, though, as I fought against the worry that threatened to overtake my thoughts, I remembered the moment God told me that my baby girl would not only be accepted into this study abroad program, but that she would return to me safely in the end.  What a gift God has given me in this knowledge!  So why is it hard to keep that in perspective and why do I allow my thoughts to snowball in a way that can only lead to more anxiety?  What am I missing?  A scripture written on an index card caught my attention:
"In addition to all of this, take up the shield of faith, with which you can extinguish all the flaming arrows of the evil one."  Ephesians 6:16.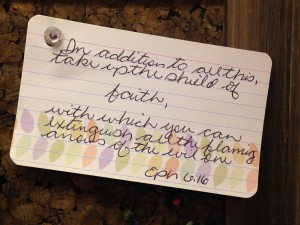 By the way, all of this is happening as I blow dry my hair and brush my teeth.  So I prayed about faith as I moved on to mascara.  I affirmed my faith in God's promise to me and identified those worrisome thoughts as flaming arrows of the evil one…and then I experienced it.
"Peace I leave with you; my peace I give you. I do not give to you as the world gives. Do not let your hearts be troubled and do not be afraid."  John 14:27.  I experienced peace not because there was any less to worry about, but because without those interfering thoughts, I was able to focus on the ending God has promised.
Then I saw it.  This is just what He tells us about our life here on earth.  We already know how it is going to turn out; we already know the ending for those who put their trust in Jesus Christ as their Savior.  And it promises to be glorious!  This life is our semester abroad.  We will learn as we go.  We will have hard times and learn difficult lessons.  We will have great times and glimpses of home.  Through it all God has given us the knowledge we need to keep this life in perspective because we know, in the end, we will return safely to the one who created us.
Cindy is a blog contributor and board member at Study With Friends Ministries.  She is married with three children.  For more on the Study With Friends Bible Studies, click here.