Somehow the practice of fasting in preparation for Lent has become a bit mainstream, a bit self indulgent.  We hear a lot of 'What are you giving up for Lent' and the response is chocolate or sweets or some other diet driven answer.  Really?  Honestly, I don't think Jesus cares if you like chocolate.
I do think that God cares if you are physically healthy.  In fact He's pretty clear on that:
 'Or do you not know that your body is a temple of the Holy Spirit within you, whom you have from God? You are not your own, for you were bought with a price. So glorify God in your body.' –1 Corinthians 6:19-20 (ESV) 
 But we are called to do that every day, not just during Lent, right?
So let's back up the truck.  What is Lent anyway?  One source I read said 'Lent is to Easter what Spring Training is to baseball.'  That's pretty good, but not quite enough. (The New Hampshire Patch)   Another source said: "If we enter into Lent with our entire person, it can draw us into a deeper embrace of the power of the Resurrection, beginning right now. Liturgy is the "work" (that is what the word means) of the faithful. Lent is a powerful liturgical season.  However, to borrow an adage from the recovery movement, it "only works if you work it". With its practices of piety, asceticism and extended prayer and worship, it challenges us to "turn away from sin and be faithful to the Gospel"." (catholic.org)
All good stuff.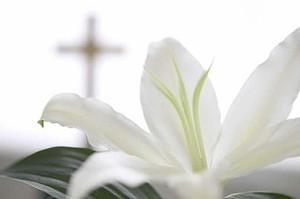 Here's what a lot of us miss: fasting is only part of our approach to the Cross.  It's a good part, and even an important part.  But it is not necessarily food related, and it was never intended to stand on its own.  In every Biblical occasion, (here's a comprehensive list) fasting accompanies a specific intention toward the Lord.  In sorrow, repentance, prayer, worship or preparation.  In some cases it is used solely as a tool for experiencing God's presence.
Whatever the intention, there should BE an intention to connect fasting with our hearts moving closer to God, not farther from chocolate or pudgy waistlines.
So what does this look like in practical, every day life?
One way we have experienced this in our home is by fasting and substitution.  When we take something away, there leaves a void.  We must intentionally fill that void with the things of God or it will be filled with the things of self or of the world.
Trust me on that one.
For example, a few years ago for Lent, one of my daughters decided to give up secular music and substitute with only Christian music.  The other decided to give up make-up and make sure she wore her cross necklace every day to school.  During times that I really need to hear from God, I intensify my daily time with Him by doing a media fast, which means those times I would be watching TV, instead I am reading His word.  Once I also did that with Facebook, so all those little snippets through the day when I would have checked FB, I pulled up the Bible or a devotional on my phone and read that instead.
This year one of my girls gave up Instagram, and is helping me with some graphic art work for the Study With Friends social media platforms, all of which center on scripture verses.  So she's reading more scripture in that process than she normally might. Removal, substitution.
(follow on your favorite for daily encouragement: Facebook, Twitter, Instagram, LinkedIn)
If you are fasting in some way this Lenten season, consider replacing the deleted behavior with something God centered.  The above linked article in the New Hampshire Patch has some great suggestions.
And please comment below to tell us your own great ideas of how to make this work in a busy life.  Let's encourage each other as we walk towards the Cross.
Holly Lazzaro is part of a weekly radio program and podcast called "Study With Friends," a unique format of 4-5 different women each week, gathering around the Bible to study God's Word.  With organic conversation and authentic personalities, it's a fresh offering on the Christian airwaves.  For more information check out our bible studies.