Ephesians 2:10 reminds us that "we are God's handiwork, created in Christ Jesus to do good works, which God prepared in advance for us to do."  That's really nice to think about, right?  There are good plans for us to do good things.
Sure, until you start trying to figure out what those good things are.
There are a lot of good works I can do every day, like taking good care of my husband and my children, my house, my job, my finances and yes, even taking care of myself.  But are those things my calling?  Are they my stewardship?  Are they my abundant life?  I could probably classify those activities under a few Bible buzzwords and find a fit.  I also volunteer at my church, mentor younger moms, and teach local Bible studies.  Is that my calling?  Or do those have more to do with my 'spiritual gifts,' another set of biblical life elements that take some figuring out?  Then there's my witness to the world: I am involved in my children's schools and our neighborhood, and I have an office job.  Every place I go I have a chance to witness to Jesus Christ in some pretty dark places and lives who really need Him.  Is THAT my calling???
Well, if you are like me, you could spend a lot of time mentally flopping around like a fish out of water, trying to figure out your calling.  Especially after a particularly inspirational sermon or Bible study reminds you that you do have a calling and should get on that right now!  All of these I listed are good things, and we should be living a life that glorifies Jesus in all of these ways, sure.  But what about that bigger (capital c) Calling?  I really don't have the answers for you there. This is going to be unique to you and your walk with God.
Sorry, I probably should have led with that.
All I can tell you are a couple of things that I have learned as I uncovered my calling into the ministry of Study With Friends.  First, there is a difference between mission and ministry.  Mission is working to advance Jesus Christ outside the body of the church.  Ministry is taking care of the body of Christ, His church.  That helped me sort things out a bit.  I see now that my neighborhood, my office, my children's schools etc, are mission fields I can work to advance the name of Jesus.  My ministry is a place where I feed the body of believers.
When I share my experience with folks who have also found their calling from God, there is a sameness to those experiences.  That seems to validate my experience which is great, but more importantly we know that the Bible gives us a few principles in this area: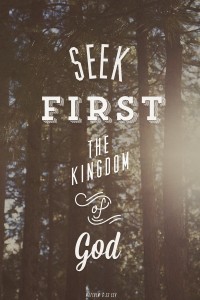 Principle #1: Matthew 6:33: "But seek first his kingdom and his righteousness, and all these things will be given to you as well."  First, and foremost, know this: God does not need you to accomplish anything for His kingdom.  That may hurt your feelings but buck up, because it's actually a relief.  He is God, after all.  He certainly doesn't need my tiny offering to get His work done.  The goal of any calling He would put on our lives will first be intimacy with Him.  Remember that He is always after a deeper relationship between you and Him.
When I heard the calling for Study With Friends Ministries, I was not looking for my calling.  I was seeking hard after my Savior and my God, and trying to grow His Spirit in me.  Intimate time with Him and a growing relationship with Him will naturally produce conversation with Him in your spirit.  That conversation may include a calling, it may include a conviction.  Be present for both.
Principle #2: 1 Timothy 5:8 "Anyone who does not provide for their relatives, and especially for their own household, has denied the faith and is worse than an unbeliever."  Granted, this verse is really more about widows, but let it sit a minute and I think you will agree it applies.  If you sense a calling, make sure it aligns with Biblical priorities in your life.  I always do the 'four walls' test.  Does this commitment interfere with what I KNOW I have been given by God, those things within my own four walls?  Those are: 1. My regular, personal relationship with Him and 2. My husband, children and the responsibilities of my home life.  That doesn't mean you won't have to make adjustments, but you should not make sacrifices in those areas.  I would challenge you to be ruthless about protecting your commitment to those four walls.  It's easier than you might think to lose your way there.
Principle #3: Biblical discernment.  God is not hiding His will from you.  He wants you to find it. (Jeremiah 33:3, Acts 17:27, Deuteronomy 30:14) Use the Biblical prescription for discernment:
Prayer (1 Thessalonians 5:16-18)
Time in the Word (Joshua 1:8) [for some time in the Word click here], and
Godly counsel (Proverbs 12:15, Proverbs 11:14).
Don't leave any of these three out.  And don't feel rushed into anything.  Remember principle #1, God does not need you to do this thing.  When it comes to true calling it's better for you to be sure than to be quick.
Principle #4: Does it stand up to Luke 6:44? "Each tree is recognized by its own fruit. People do not pick figs from thornbushes, or grapes from briers."  Will the work bear good, godly fruit for the kingdom and in YOUR life on a consistent basis?  Remember principle #1, God is seeking YOUR heart first here.  This principle applies to figuring out your calling and also living it out.
Following your calling is a constant act of balance, maybe best exemplified by the tightrope walker.  Those guys are always making slight adjustments to the big pole they hold.  That big pole seems pretty important.  It keeps them in balance.  Keep your eyes on the tightrope ahead but keep your hands on the pole.  If you have to make frequent, drastic adjustments or if you feel you are too out of balance, it's probably time to take a look at this thing again, and maybe time to step off the tightrope for a bit to regroup.
[For more on your role in the balance between divine sovereignty and human responsibility, please study more in depth with us by following this link.]
Holly Lazzaro is part of a weekly radio program and podcast called "Study With Friends," a unique format of 4-5 different women each week, gathering around the Bible to study God's Word.  With organic conversation and authentic personalities, it's a fresh offering on the Christian airwaves.  For more information check out our bible studies.