Every good thing bestowed and every perfect gift is from above, coming down from the Father of lights, with whom there is no variation, or shifting shadow. (James 1:17)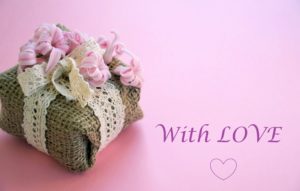 I love receiving presents that bear the words, "with love" on the gift tag.  That tells me the giver thought about me while shopping and wrapping, and he or she cares deeply for me.  That makes me feel special.
So it is with gifts from our Father God.  James 1:17 tells us that He has given us every good thing and every perfect gift.  His presents are just what we need, and they are given at just the right time.  From the beginning of history, God has shown Himself to be a generous God.
He has created for us a home here on earth and a place in heaven (John 14:2-3).  He lavishes us with an abundance of food from His hand, provides rain and sunshine to make our crops grow, and gives us the ability to enjoy our work (Ecclesiastes 2:24-25).  He sustains our daily walk and stands with us in times of sorrow, turning our ashes to garlands and our mourning to gladness and praise (Isaiah 61:3).  He clothes us with salvation and garments of righteousness (Isaiah 61:10).  He makes us righteous because of the generous gift of His Son, Jesus, who became sin for us, so that we can enjoy a full and abundant life in Him (John 10:10).  Yes, God's gifts to us are good and generous beyond measure!
But how do our gifts to God stack up against His kindness to us?  How does our generosity measure up, when compared to all He does for us?  In what way is God asking you…and me…to show generosity to Him?  In what ways can we go beyond our normal giving and trust God to open the windows of Heaven for us and pour out blessings until they overflow (Malachi 3:10), as we seek to be generous toward Him?  He is good to His word and keeps His promises.  Will we trust Him by stepping out in faith and generosity?
Carol C. and her husband have been married for nearly 50 years.  She is a proud mother and grandmother, as well as a teacher and author.  For more on the Study With Friends Bible Studies, click here.