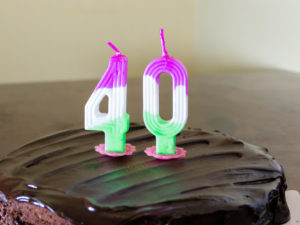 Have you seen the meme about finding "an adultier adult"?
I was texting with a friend the other night and we both confessed that we feel like we are pretending to be grownups 90% of the time. Not just that we lack self-confidence but just that the surrealness of adulthood and parenthood hasn't yet faded to the point where we accept that we are the adults. If there's an emergency, people younger than us may come to us and expect us to know what to do. Don't they know that we haven't been trained for this? Quick, go find a grownup!
Personally, being in my 40's is great; I don't miss the insecurities of my 20's or the unmerited hubris of my 30's. But entering your 40's also means accepting certain changes in your life for which you may need to increase your emotional bandwidth. For instance, the hair on your face in your 40's will suddenly be under new management. The lone/stray moustache hair of your 30's turns into a full removal situation in your 40's. Also, something happens to your eyebrows. I'm not sure how to describe it. Yesterday I woke up and when I looked in the mirror a single eyebrow hair had grown an inch overnight. I am not exaggerating. An inch. Overnight. Where was it going? Why was it doing this? Would the others soon follow?
The thing that hasn't changed in my 40's is my need for Jesus and His Word. Whether I need it as a desperate person needs rescue or whether I need it as a worried person needs reassurance, I need His Word and I need it consistently. There's just no substitute. If I'm running, running, running and I make no time for the Word, I'm the one who pays the price when my tank is empty and He feels so far away. I can make this a priority or I can make excuses.
How I fit that into my daily schedule looks very different than it did in my 20's and 30's, as my kids are getting older and can be more reasonable about mom's quiet time. Sometimes my youngest, after his teenaged siblings are out the door, will sit quietly with his Bible while I sit with mine, which makes my heart full. I used to try to always do it when they were either sleeping or not around, but now I can see that I need for them to see their mom making time for God's Word. I find a reading plan to be pretty helpful, as the nerdy part of me enjoys checking off the boxes every week.
How about you? How do you fit time with God's Word into your daily life? Let us know in the comments what you've found that works for you.
Shay is a blog contributor and a lover of coffee and snow. She is married with three children. For more on our bible study series, click here.