This week is April Fools' Day, the only day of the year, some have noted, when it's ok to pull pranks and practical jokes.  It seems many countries and cultures have a similar tradition of a day dedicated to hoaxes and mischief, not necessarily occurring on April 1.  I used to love to try to fool people on April first each year, but when I married, I discovered that not everyone liked the day.  I suspect my husband may have been the object of some nasty jokes as a child, as he never found the day humorous.
I suppose, a day dedicated to foolishness is rather puerile, and as adults we should "give up childish things."  (I Corinthians 13:11 KJV)   However, we still seem to be able to commit some pretty foolish acts and have some pretty foolish ideas, without even trying.
A few years ago, it was a popular Christmas gift to "buy a star" and have it named for someone you wanted to honor:
Name A Star US
Welcome to Star-Name-Registry where you can name a star visible from anywhere in the world for someone special. Naming a star could not be easier with our easy to use website, professional customer service and amazing shipping times. For as little as $19.95, you could own your very own star on our online registry with our Email package. Looking for something physical? From $24.95 you can even have a professionally printed deed for your star!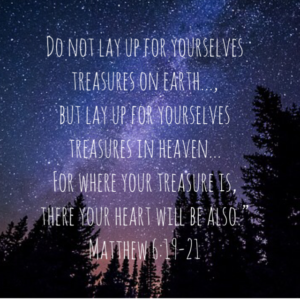 Now, there's something foolish, I must admit.  First of all, the International Astronomical Union is the only recognized secular authority for naming celestial bodies.  No one owns the stars, so how can a company claim to be able to name a star for you?  Biblically it is said of the stars that God "brings out their host by number, calling them all by name." (Isaiah 40:26 ESV) Psalm 147:4 tells us that "He determines the number of the stars; he gives to all of them their names."  How presumptuously foolish of us to think we can usurp God's sovereignty and name stars He has already named!
Jesus told a parable about a "rich fool."  Luke 12:13-21 tells of a prosperous man who was forced to build bigger storehouses for all the wealth he had put his entire life's work into accumulating.  Jesus ended the story by saying, "But God said to him, 'Fool! This night your soul is required of you, and the things you have prepared, whose will they be?' So is the one who lays up treasure for himself and is not rich toward God." (Luke 12:20-21, ESV) In the same vein, Matthew quotes Jesus as warning, "Do not lay up for yourselves treasures on earth, where moth and rust destroy and where thieves break in and steal, but lay up for yourselves treasures in heaven, where neither moth nor rust destroys and where thieves do not break in and steal. For where your treasure is, there your heart will be also." (Matthew 6:19-21)
Dear Lord, please help us be always mindful of what is wise in your eyes.  Help us eschew the foolishness of this world that inundates us.  We want to lay up treasure with you in heaven.  Show us how to do that in our daily walk.
Marilyn is a retired OB/GYN and member of the Study With Friends Ministries board.  You can hear Marilyn on our series, Comfort, Caution, and Confidence from the Psalms.  You can listen to any of our Bible studies by tuning in to your favorite radio station, listening to our podcasts on our website or iTunes, or listening through TuneIn or Stitcher online radio.