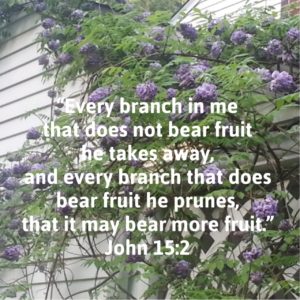 May is upon us after a dreadfully long winter full of 'Nor Easters, snow and ice, fallen trees, power outages and general misery. Dare I say it actually feels like Spring. Our neighborhood has recovered from the severity of the blustery cold and given way to flowering perennials, budding trees and nest- building birds. Neighbors are busy with yardwork, preparing their outdoor spaces for the warm months ahead. Finally!
We're very fortunate to live in a neighborhood which was once the site of a tree farm. Our property is inhabited by a variety of very old, very tall trees which cover everything in a blanket of shade. I've learned after 20+ years of living here, not to waste time trying to grow sun-loving plants. The only exception is the single corner of our house which gets the right amount of direct sun to keep a purple wisteria vine happy and flourishing. It has enthusiastically climbed all the way up the side of the house, sending its pendulous blossoms cascading elegantly over the roof.
We have marveled at the shocking speed at which it has grown and dominated that corner of the house every spring, relishing the beauty of its success in the one sunny corner of our yard. However, in less than 5 short years it has grown so strong and expansive as to become concerningly invasive. When we noticed it begin to rip through the supportive lattice structure, we realized there might be a problem. Although we couldn't see up to its highest point at the peak of the roof, we began to worry it might be causing unseen damage.
Last autumn my husband climbed a ladder to make an inspection. He decided it was time for remediation and we agreed that he needed to do some pruning. We felt it was necessary to remove anything which had grown dangerously close to the shingles and cut back any invasive growth threatening the roof. We recognized the potentially expensive repairs which might become necessary if we let the vine keep growing unchecked.
He went to work one day while I was out running errands. Upon returning I was not prepared for the severity of the literal hatchet job that had occurred. It made me cry; it was all gone! He cut the whole thing down, entirely. My dear husband had chopped all the wisteria branches off of the roof, pruning the vine down to about 5 feet from the ground. I was devastated. It had been reduced to a stunted, barren branch grasping at a twisted scrap of plastic.
At this time every year I look forward to the vibrant purple blossoms dangling over the garden. But during this long-awaited spring, the flowers are absent and the lattice work is bent and broken. It's pitiful to see. While the wisteria is not dead, it's certainly in shock from having been cut back so severely. But the branches are soft and tender with tiny, pale green shoots beginning to nudge their way out. I am hopeful.
I want the thriving vine back. I long for my prized, glorious sunny success story, the anchoring centerpiece of my garden which made me most proud. I have long since forgiven my husband although there was nothing to forgive really – he did what needed to be done. But honestly, I can identify with that sad plant.
Life has been very challenging for the past 3 years. My family is very blessed, but we have dealt with many tough changes, losses and hurdles. I remarked recently to a friend that I miss the way things used to be and how difficult it is to see the previous season of life end. It reminds me of the wisteria: what was once a vibrant time of happy growth and flourishing has given way to what feels like a severe and uncomfortable pruning. Life can be shocking and painful; it takes time to recover.
God's word brings such comfort during times of struggle. The words of Christ in John 15:1-5 resonate so strongly: "I am the true vine, and my Father is the vinedresser. 2 Every branch in me that does not bear fruit he takes away, and every branch that does bear fruit he prunes, that it may bear more fruit. 3 Already you are clean because of the word that I have spoken to you. 4 Abide in me, and I in you. As the branch cannot bear fruit by itself, unless it abides in the vine, neither can you, unless you abide in me. 5 I am the vine; you are the branches. Whoever abides in me and I in him, he it is that bears much fruit, for apart from me you can do nothing."
Although our gardening story is not a perfect analogy for this scripture, I am reminded of our wisteria. We could not see any invasive growth from the ground; it was not until my husband climbed up the ladder to get a closer look that he could observe the full impact of the damage. From that vantage point he discovered how the vine had become invasive and dangerous, growing thick and breaking through under the roof flashing. We want the plant to thrive and be beautiful, growing properly in a healthy manner – but not at the expense of our roof!
We learned the hard way that wisteria requires careful, regular attention and a sturdy structure to train it for proper growth. This strikes me as what it means to abide in Christ. We are to submit and yield to his instruction, paying careful and regular attention to His word. His pruning is the sanctifying work that we need to yield fruit, according to his good purposes and for his glory.
For apart from God "we can do nothing" – we are not capable of glorifying Christ. Paul says in Romans 7:18, "For I know that nothing good dwells in me, that is, in my flesh. For I have the desire to do what is right, but not the ability to carry it out." We are paralyzed without him; yet he promises to do for us and through us what we can't do alone. Any fruit we bear comes from God. Jesus says in John 15:7-8, "If you abide in me, and my words abide in you, ask whatever you wish, and it will be done for you. By this my Father is glorified, that you bear much fruit." We are to pray, asking God to do through Christ what we can't do for ourselves, which is to bear fruit – which glorifies God.
From God's omnipotent vantage point, he sees healthy and unhealthy growth. He sees growth which can be made even better. He prunes in a way which causes us to bear more fruit, fruit which will glorify him. But we are to abide in Him. We can trust in God's good work and in his purposes, for he is faithful and just: "For great is his steadfast love toward us, and the faithfulness of the Lord endures forever." -Psalm 117:2
We are the branches, Christ is the vine. Notice in John 15:2, "every branch that does bear fruit he prunes, that it may bear more fruit." Even when we are flourishing and bearing fruit, he prunes the branches in order for us to bear more fruit. He may even prune the very fruit which makes us most proud. This is painful, and yet encouraging – I choose to embrace the seasons of struggle as avenues to seek God through prayer that it may glorify Him. I'm also hopeful that with time and proper pruning, our wisteria will bloom once again, becoming a feature of our property rather than a hindrance to our roof.
Alysa is a blog contributor and board member at Study With Friends Ministries.  She is married with three children. You can read more of Alysa's blog here.   Listen to our Bible studies by tuning in to your favorite radio station, listening to our podcast on iTunes, or listening through TuneIn or Stitcher online radio.