As last year was ending and a new year approaching, I, like many, did my own little "year in review."  2017 seemed to have its share of downers.  Among them, my mother fell and broke her hip, and subsequently died.  After finally persuading my husband to take a vacation (it had been several years since our last one), our trip south in September was cancelled by a hurricane (one of several that affected our country).  There were earthquakes and wild fires in our country and terrorist attacks all over the world.  I personally was sick with bronchitis for over six weeks.  That was followed by a shingles outbreak that lasted 4 months. In December my husband spent 8 days in court being defended in a law suit. I could easily have felt sorry for us,  and the world in general.
One of my devotional readings took me to Psalm 57.  David opens the psalm with "Have mercy on me, O God, have mercy on me, for in you my soul takes refuge.  I will take refuge in the shadow of your wings until the disaster has passed.  I cry out to God Most High, to God, who fulfills his purpose for me." (vv1-2)  Well, I could certainly relate to wanting to hide under God's wings till the disaster passed.  But then David adds that part about God fulfilling His purpose for me.  Reminder:  God is sovereign and still on the throne, controlling ALL.
Then David goes on to sing, praise, exalt and make music to God.  I went back to the beginning, to the notation before the psalm actually begins.  It says, "Of David…when he had fled from Saul into the cave."  Read the cave story in I Samuel 24.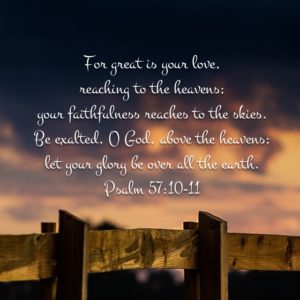 So here is David, hiding in a cave from King Saul who is trying to kill him.  Does David complain or curse God?  No.  He writes a psalm, asking for God's mercy and praising God for His faithfulness and love.
Yes, life can be challenging, but God is faithful and loving ALL THE TIME.  Because of God's love and faithfulness, He sent Jesus to die for our sins.  I can rejoice that my mother is with her Lord.  I give thanks for healing and try to wait patiently to see God's purpose for me in illness.  God is faithful through earthquake, wind and fire.  He has never left the throne and what a comfort that is to me.  My husband and I were able to see the Lord at work all through the trial (not to mention that my husband was found innocent).  The Lord was faithful toward us, even if my husband had not won the case.  We can trust Him to fulfill His purpose for us.  ALWAYS.
"…great is your love, reaching to the heavens; your faithfulness reaches to the skies.  Be exalted, O God, above the heavens; let your glory be over all the earth." (Psalm 57:10-11)
Marilyn is a retired OB/GYN and member of the Study With Friends Ministries advisory board.  For more on God's faithfulness, check out our Malachi series.  You can also listen to our Bible studies by tuning in to your favorite radio station, listening to our podcast on iTunes, or listening through TuneIn or Stitcher online radio.