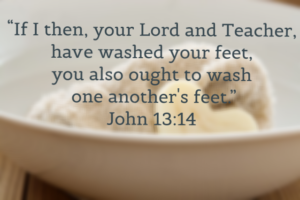 Every summer for the last fifteen years, my selfless husband chooses to leave his home and family for five weeks to go up north to work.  His goal is to earn extra money to provide for his family; even still, hating to leave us and be away from those he loves and holds dear.  A choice to serve his family while denying self proves his deep love for us.  The example he sets inspires us to share this type of self-sacrificing love with others.
My husband's selflessness reminds me of Jesus' love for me.  His great love for us was given selflessly, with only our welfare in mind.  In fact, he looked past self to sacrifice his will to completely benefit us.  His love for us creates a devotion to Him that otherwise we would be unable to possess in our own hearts.
When he had finished washing their feet, he put on his clothes and returned to his place. "Do you understand what I have done for you?" he asked them.  "You call me 'Teacher' and 'Lord,' and rightly so, for that is what I am.  Now that I, your Lord and Teacher, have washed your feet, you also should wash one another's feet.  I have set you an example that you should do as I have done for you.  Very truly I tell you, no servant is greater than his master, nor is a messenger greater than the one who sent him.  Now that you know these things, you will be blessed if you do them.  John 13:12-17
When I read this scripture, I have to admit, my selfish heart doesn't always mirror the same rhythm. I readily seek to have my own needs met wanting to be served rather than seeking to serve. Myself is demanding wanting my own way, my own rights, my opinion, my,my,my…. When I choose to seek my own needs first, I demonstrate a low level of understanding of what Jesus actually did for me.
His servant example as Teacher and Lord opens up our hearts to a better way–a selfless way which paves the way for freedom to occur.  An eternal example which prepares us to go and do likewise sharing God's love with those closest to us and to the world.
Terry is a blog contributor who is thankful for her life in Jesus which fills her life with joy.  For more on being servant minded, you may enjoy our Bible study The Humility of Christ.   You can also listen to our Bible studies by tuning in to your favorite radio station, listening to our podcast on the Study With Friends website,  iTunes, or listening through TuneIn or Stitcher online radio.