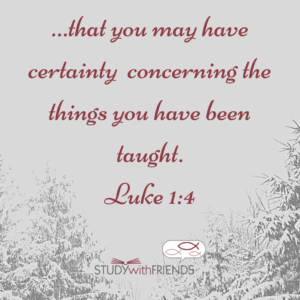 Christianity is more than just "faith" for me, it's the lens or worldview through which to view life. I do not consider it a "choice" to believe, since it is inextricably linked with reality. I believe that Christianity is the best way to understand the world: it explains tangible and intangible reality including science, nature, human nature, morality, beauty, and Truth. A favorite quote by C.S. Lewis captures this perspective so well: "I believe in Christianity as I believe that the Sun has risen, not only because I see it, but because by it I see everything else."
My understanding and perception of the world hinge upon the birth, death, and resurrection of Jesus Christ accounted for in God's Word. We have very good reasons, which include solid evidence, to believe these events are true and actually happened. I find it to be particularly edifying that the Gospel of Luke begins by placing great emphasis on the reliability of these events. The very first chapter opens with a richly written, forceful passage:
Inasmuch as many have undertaken to compile a narrative of the things that have been accomplished among us, just as those who from the beginning were eyewitnesses and ministers of the word have delivered them to us, it seemed good to me also, having followed all things closely for some time past, to write an orderly account for you, most excellent Theophilus, that you may have certainty concerning the things you have been taught." -Luke 1:1-4
We know from Colossians 4:14 that Luke is a medical doctor who is meticulous and detailed, and based on this beautiful opening passage, obviously an eloquent and skilled writer. Luke describes his purpose for writing his letter, which is to give a careful, persuasive account of the events which transpired for the sake of certainty. He basically testifies that his account is trustworthy and reliable and that the events he describes actually occurred.
Luke emphasizes that 1) he received the accounts of many eyewitnesses directly, which we can presume were used to corroborate each other as well as his own account, 2) he himself had followed the events carefully for a while, and 3) his written account resulted from his own orderly, thorough research. It's so encouraging to me that Luke's goal was to provide evidence for Theophilus, rather than expect him to believe blindly in something which is difficult to comprehend.
Recall when Thomas expressed doubt:
"Unless I see in his hands the mark of the nails, and place my finger into the mark of the nails, and place my hand into his side, I will never believe." -John 20:25
Despite Thomas' stubbornness (which reminds me of myself!), Jesus appeared later to the disciples and showed His wounds to Thomas as proof of His resurrection after crucifixion:
Then he said to Thomas, "Put your finger here, and see my hands; and put out your hand, and place it in my side. Do not disbelieve, but believe."- John 20:27
And then Jesus exhorts us all:
Jesus said to him, "Have you believed because you have seen me? Blessed are those who have not seen and yet have believed." -John 20:29
I love John Piper's view: "There are many today (both professional intellectuals and ordinary lay folks) who conceive of Christian faith as a leap into the dark, an arbitrary decision to embrace something for which they can see no adequate reason to believe is true. The Holy Spirit is brought in to replace evidence in such a way that if you ask a person why he believes the gospel, he may answer something like, "The Holy Spirit witnesses to me that it is true. But this is not the way Luke understands faith. First of all, he is not content with the evidence that Theophilus already has from those who have taught him. He does not merely pray for God to tell Theophilus it is all true. He undertakes a very heavy intellectual task: he writes a fifty-two-chapter book!"
He goes on, "If Theophilus or any of us is to be persuaded that Christianity is true, we must be convinced of the reliability of the witnesses, and, just as important (perhaps more important), we have to see that this claim to truth fits in and helps make sense of reality as we experience it."
As we prepare our hearts to celebrate the birth of Christ, let's rejoice in what "has been accomplished among us." Let us have confidence in the reliable biblical account and focus on its rich and trustworthy evidence. May we be reminded as Luke shared with Theophilus, that we "may have certainty concerning the things you have been taught" and be blessed for believing, though we have not yet seen. Merry Christmas!
Alysa is a blog contributor and board member at Study With Friends Ministries.  She is married with three children. For more from Alysa click here.  Listen to any of our Bible studies by tuning in to your favorite radio station, listening to our podcast on iTunes, listening through TuneIn, Stitcher, or Spotify online radio, or watching on YouTube!