My sister tells the story of meeting a Hollywood actor and producer in a little semi-rural town in PA.  A gentleman approached her for assistance and she blurted out, "You're Mark Harmon!"
"Well, yes I am," he countered.  "And you are…?"
"Me? Oh, I'm nobody!" replied my sister.
We find personalities throughout life who engender awe in us.  We feel that sports heroes, film and TV stars, even local politicians and heads of state are in a world that is different from/elevated above ours.  How exciting that one of these people would come to my level and recognize me!  Some celebrities don't do that.  They remain aloof, never deigning to interact with us "peasants."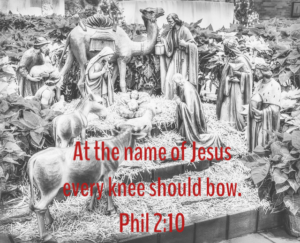 And then there is Jesus. "Who, being in very nature God, did not consider equality with God something to be grasped, but made himself nothing, taking the very nature of a servant, being made in human likeness.  And being found in appearance as a man, he humbled himself and became obedient to death—even death on a cross!" (Philippians 2:6-8) Talk about awe!  The God of the universe, the Author of life, the King of kings and Lord of lords gave up his heavenly glory and power to not just interact with us, but to become one of us.  As a case in point, Jesus' birth was first announced to dirty, smelly shepherds living outdoors with their sheep.  They were invited to worship the baby who was laid in a humble manger.  How like God to reach out in such a way, to give up everything, to be with us and to reconcile us to Him.  Glory to God in the highest!  "Therefore God exalted him to the highest place and gave him the name that is above every name, that at the name of Jesus every knee should bow, in heaven and on earth and under the earth, and every tongue confess that Jesus Christ is Lord, to the glory of God the Father." (Philippians 2:9-11)  Oh, come, let us adore Him!
Thou didst leave Thy throne and Thy kingly crown,
When Thou camest to earth for me;
But in Bethlehem's home was there found no room
For Thy holy nativity.
O come to my heart, Lord Jesus,
There is room in my heart for Thee.
Heaven's arches rang when the angels sang,
Proclaiming Thy royal degree;
But of lowly birth didst Thou come to earth,
And in great humility.
O come to my heart, Lord Jesus,
There is room in my heart for Thee.
Author:  E. S. Elliot
Baptist Hymnal, 1991
Marilyn is a retired OB/GYN and member of the Study With Friends Ministries board.  You can hear Marilyn on our series, Comfort, Caution, and Confidence from the Psalms.  You can listen to any of our Bible studies by tuning in to your favorite radio station, listening to our podcasts on our website or iTunes, or listening through TuneIn or Stitcher online radio.