I recently spent a few hours in the local urgent care.  I'm not a fan of doctors, hospitals or urgent care places. I'm sure they're great people, but I've just seen too many in my life!  I try to do all that I can to stay away from "those" places and people; I even get my flu shot as early as possible each year.  I'm one of those people who gets sick a lot and, well, I hate getting sick.  I'll do just about anything to stay away from the doctor's office.  But one Saturday, I was in real bad shape and decided it was time to see someone- It reminds me of Jesus' words in Mark 2:17:
"It is not the healthy who need a doctor, but the sick.  I have not come to call the righteous, but sinners."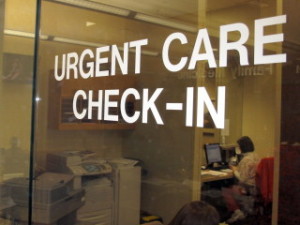 Of course it was a Saturday and my regular doctor was nowhere to be found, so I went to that Urgent Care I mentioned earlier.  I went in, signed the sheet, paid my co-pay and then I waited awhile.  Once I was called to the back a nurse took all my vital statistics.  I'm not usually happy about what the scale says I weigh- I don't feel that big.  I then was placed into a small room to wait again.  A nurse entered, wrote down my symptoms.  Then the doctor came into the room to go over the symptoms again, listen to my heart and ask more questions about how I'm feeling.  When the doctor was finished getting all the information and about to tell me what she thought was the problem and what I would need to do to start to fix it, I got up and left.
WHAT?!
I know that's absurd!
No, I would never do that, and I didn't do that in this circumstance.  In fact I listened intently and got on medication, for shingles.  It turns out it was caught early enough to get on something to shorten the lifespan of the virus.  I was relieved to have an answer and to be able to do something to make it end faster.
I wouldn't walk away before I received some kind of help or relief.  But I have been doing that lately with our great physician.  I lay all my requests at Jesus' feet then move along, I either get up and start my day or fall asleep before I hear any answers to my requests.
Let the wise listen … and become even wiser. -Proverbs 1:5
I know I'm a sinner and that I need healing.  I've been dumping my issues on our Lord, just dumping them in His lap or at His feet.   But I don't wait for the healing part.  I would never do this to a local doctor and yet I'm choosing to do this to our Lord and Savior.  I'm missing the best part of the relationship, and yet I'm finding that I'm scared to hear what God has in store for me.  See, I've known our Lord for a long time now and He often makes me step out of my comfort zone.   He has shown me so many times how His plan is so much better than mine, but that requires me to step out in faith to do His will.
That's scary.
It's hard.
And did I mention that it is scary?!
We all need healing in our lives and what better way to find it than at the feet of Jesus.
If you search the word "healing" in the bible, 30 results come up, 15 in the Old testament and 15 in the New testament. Many of the New Testament verses tell us just that Jesus healed many.  Jesus healed.  The truth of the matter is this: if you don't know our great physician or go to Him for healing, how can He heal you?  How can I get the healing that I know I need if I don't take the time to listen and learn?
I'm glad that I know our Lord and Savior.  He reminds me of how I have listened to His plan in the past and how, "He works for the good of those who love him." Romans 8:28.
I want to know God and I want Him to know me.  I am going to listen for the instructions, and I am going to use the prescription.
Amy is a business owner and mother of two, on a journey to uncover God's plan for her life every day.