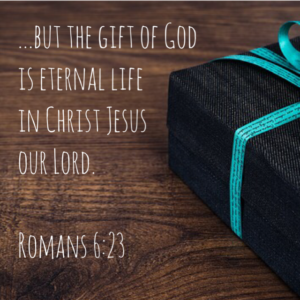 My husband and I were listening to the weather report one recent evening.  The meteorologist went through the 7-day forecast of rain, rain, and more rain.  But come the weekend, the weather was supposed to be sunny and balmy.  The forecaster's comment was, "after all the rain, we deserve this" nice weekend.
"Really?" was my husband's comment.
The Oxford Dictionary defines deserve as "do something or have or show qualities worthy of (reward or punishment)."  What qualities do we possess that make us worthy of a sunny weekend?  What great act have we done to merit such a reward?
"I'm glad God doesn't give us what we really deserve," my husband continued.
We do tend to think we're not so bad, and that we don't deserve bad things happening to us.  But God has set the bar very high.  The psalmist stated, "If you, O Lord, kept a record of sins, O Lord, who could stand?" (Psalm 130:3 NIV).  Paul tells us that "all have sinned and fall short of the glory of God…"  (Romans 3:23).  That's a humanly unattainable standard:  the glory of God.  Yet Paul goes on to tell us that "the wages of sin is death…" (Romans 6:23).  According to God's standard, what we ALL deserve is death.
Thankfully, God "does not treat us as our sins deserve or repay us according to our iniquities." (Psalm 103:10).  Being a just God, He still demands a penalty for our sin.  Jesus, the perfect man and Son of God, paid the penalty for us.  "God made him who had no sin [Jesus] to be sin for us, so that in him [Jesus] we might become the righteousness of God." (2 Corinthians 5:21).  So now we can finish the Romans 6:23 verse: "For the wages of sin is death, but the gift of God is eternal life in Christ Jesus our Lord.  Thank you, Jesus, for paying the wages of our sin and rewarding us, undeserving as we are, with eternal life.
Marilyn is a retired OB/GYN and member of the Study With Friends Ministries board.  You can hear Marilyn on our series, Comfort, Caution, and Confidence from the Psalms.  You can listen to any of our Bible studies by tuning in to your favorite radio station, listening to our podcasts on our website or iTunes, or listening through TuneIn or Stitcher online radio.