[This is a post by a guest blogger, a friend to the ministry, Elizabeth Schenkel and is reprinted with permission.]
I've been thinking about those Wise Men this Advent. Their trip to Bethlehem was probably not looked upon as "wise" at the time.
It's not as though they could call Delta Airlines and make reservations for a flight from, say, Samarkand to Jerusalem for December the 24th. This would have been a long and arduous trip. I'm imagining their conversations with their wives before they left,
"So, Melchior, where exactly are you going?" Melchior's wife Ann-chior peers at him as she stirs their lentil stew in a pot on the fire.
"Heading toward Jerusalem, Honey. But I couldn't say for certain where we'll end up." Melchior grabs pita bread and stuffs it into a pack.
"So you don't have a destination to put into your Garmin?" Ann-chior puzzles.
"Actually, we are following a star," Melchior mutters.
"A star.  I should have known. It's always stars with you." She rolls her eyes. "When will you be back?"
"I, ah, I really couldn't say."
"You don't know when you'll be home?"
"Sorry, no, Dear. We may be gone for a while."
"A while as in …?"
"Two years?"
"Two years!"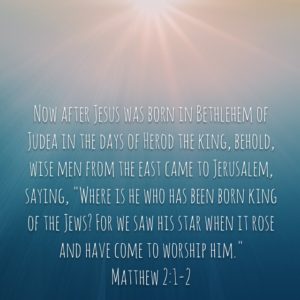 In fact, this would have been a journey fraught with peril. And the peril didn't end when they found Jesus. They had to sneak out of the country to avoid crazy King Herod on their way home. (Matthew 2:1—12).
The amazing thing is that these were not 'believers' as such. They were not Jews. The Wise Men seemed to have been pagans who paid attention to the movement of the heavenly bodies. God somehow communicated the good news of the Savior's birth to them through the stars. Excuse me? I mean, aren't there rules against that sort of thing?
This speaks to me of God's heart for people. I have personally seen in my own life before I came to Christ, and around the world in other people's lives, that God takes us where we are. And He communicates with us in a myriad of ways to bring us to the knowledge of His redeeming love in Christ.
Maybe that is the message of the Wise Men. Don't count anyone out! God is at work in the lives of the people around us. He loves them and wants to reveal Himself to them. Christmas gives us an amazing entrée into spiritual conversations with people we might not otherwise engage in that way. May He grant us all the insight and boldness to go on the unlikely journeys He might send us on to bring Christ to the people He came to save.
Elizabeth Schenkel has been actively involved in Christian ministry on four continents over the past 40 years. After a violent attack nearly ended her life in 2000, Elizabeth became a spokesperson for the persecuted church and for fulfilling Christ's Great Commission through bold steps of faith.  After serving overseas for sixteen years, Elizabeth and her husband moved to Orlando, Florida ,where Erick is serving as the Executive Director of Jesus Film Project®. The Schenkels have five grown children and three grandchildren.