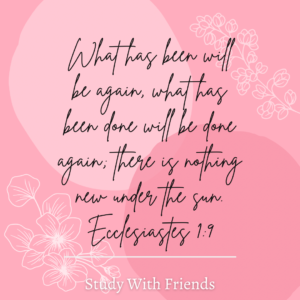 A DEEPENING CRISIS
EMPTY CUPBOARDS
AS TOLL CLIMBS, BAN DEFIED
IN HARRISBURG, DON'T EXPECT HARMONY
AS SHOOTINGS SURGE, A LACK OF JUSTICE
FOOD BANK FLEECED
RECORD TOLL FOR FATAL ODs IS FEARED
WIDESPREAD DISPARITY IN PA JUDGES' HOURS
 These are some actual headlines from our local newspaper in the past 2 months. The news is so discouraging and frightening, and I didn't even include any headlines about the recent election and its aftermath. What kind of world do we live in? Such lack of morality and obsession with personal gain! What a time to be living!
However, in the words of King Solomon, "there is nothing new under the sun." (Ecclesiastes 1:9, NIV) Our current world did not invent sin, though perhaps it seems we have perfected it. Yet, some 2700 years ago, the prophet Micah lamented: "The godly have been swept from the land; not one upright man remains. All men lie in wait to shed blood; each hunts his brother with a net. Both hands are skilled in doing evil; the ruler demands gifts, the judge accepts bribes, the powerful dictate what they desire—they all conspire together." (Micah 7:2-3) Micah further asserts that betrayal, dishonor, strife, and enmity are rife, even amongst members of the same family.
The prophet Habakkuk grieved: "How long, O Lord, must I call for help, but you do not listen? Or cry out to you, 'Violence!' but you do not save? Why do you make me look at injustice? Why do you tolerate wrong? Destruction and violence are before me; there is strife, and conflict abounds. Therefore the law is paralyzed, and justice never prevails. The wicked hem in the righteous, so that justice is perverted." (Habakkuk 1:2-4)
Even Jesus warned that "In this world you will have trouble. But take heart! I have overcome the world." (John 17:33) Take heart! Hope! Fear not! All words we need to hear today, but how do we live them out? My husband and I constantly remind each other that "God is still in control." God is Sovereign, omniscient, omnipotent, and faithful. For us, it boils down to trusting Him.
Micah goes on to say, "But as for me, I watch in hope for the Lord, I wait for God my Savior; my God will hear me." (Micah 7:7) Habakkuk follows his lament with this incredible statement of faith: "Though the fig tree does not bud and there are no grapes on the vines, though the olive crop fails and the fields produce no food, though there are no sheep in the pen and no cattle in the stalls, yet I will rejoice in the Lord, I will be joyful in God my Savior. The Sovereign Lord is my strength; he makes my feet like the feet of a deer, he enables me to go on the heights." (Habakkuk 3:17-19)
Think in terms of eternity. Revelation 21:4-5 tells us that God himself "will wipe every tear from [our] eyes. There will be no more death or mourning or crying or pain, for the old order of things has passed away. He who was seated on the throne said, 'I am making everything new! …these words are trustworthy and true.' "  Now, that gives me hope!
Marilyn is a retired OB/GYN and member of the Study With Friends Ministries board.  You can hear Marilyn on our series, Luke's Jesus: The Inclusive Savior and our current series on the Pentateuch. You can read other blogs by Marilyn here. You can listen to any of our Bible studies by tuning in to your favorite radio station, listening to our podcasts on our website or iTunes, or listening through TuneIn, Stitcher or Spotify online radio.