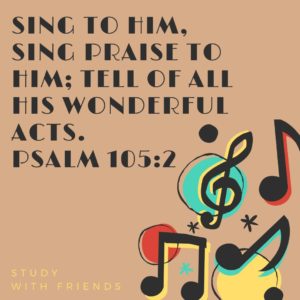 Sing to Him, sing praise to Him; tell of all His wonderful acts. (Psalm 105:2)
There's a Trisha Yearwood song from many years ago titled, The Song Remembers When. It's a favorite of mine, as it talks about how connected music is to our life experiences.
After taking every detour, getting lost and losing track
So that even if I wanted I could not find my way back
After driving out the memory of the way things might have been
After I'd forgotten all about us… the song remembers when
Have you ever had that experience? God created our amazing brains that attach memories to our senses. I was listening recently to a movie soundtrack as I worked on some ministry projects, and I suddenly felt sadness well up in me. I had no idea where that feeling came from, until a moment later when I realized the music had reached the point of a character's death in the movie. My heart remembered that feeling even when I didn't consciously remember it. Music has something special about it that it can contain big feelings that we didn't know we were carrying.
As I continued listening to that soundtrack, I found myself wondering how God uses music to speak to us, and how we use it to worship Him. How does God use music to bring glory to Himself? Sometimes I find that worship can bring me back to joy, in a way that not much else can. A cherished song can remind me, revive me, encourage me. Most importantly, worshiping God through music honors God, and fills my heart with gratitude for all He is and has done.
Both sweet and bitter, music serves as a bookmark in my life. When I hear How Great Is Our God, I remember singing it in church with a friend who has since passed away. One Name Under Heaven brings to mind the day I was baptized, and how it felt to rise out of that water as a symbol of my salvation and rebirth in Christ. Legacy reminds me of the strong faith of my grandmother.
I will sing to the Lord all my life; I will sing praise to my God as long as I live. (Psalm 104:33) What an incredible gift God has given us in music. What songs are your favorites? How has God used music in your life?
Shay is a blog contributor, board member, and a lover of coffee and snow. She is married with three children.  You can read more from Shay here, or check out any of our Bible studies by tuning in to your favorite radio station, listening to our podcast on iTunes, or listening through TuneIn or Stitcher online radio. We are now also on Spotify.