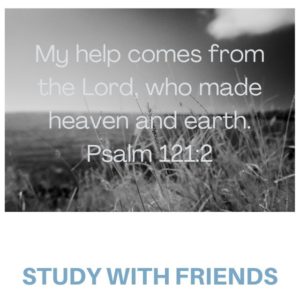 When was the last time that you had a conversation that didn't revolve around Covid-19? Our lives before this began start to seem somehow innocent and idyllic in the face of this virus. How do we bear up under a fear and looming threat of something that a few months ago we didn't even know existed? Will we ever go back to the lives we had before? Will the 'new normal' be permanent?
So many questions and fears with no easy answers, and we can struggle to get through each day in the face of these unknowns. I have wrestled with my own questions and disappointments throughout this year, but did my best to hold onto the truths that I already do know. God has given us an immeasurable gift in His Word. My help comes from the Lord, who made heaven and earth. He will not let your foot be moved; he who keeps you will not slumber. Behold, he who keeps Israel will neither slumber nor sleep (Psalm 121:2-4  ESV). Our help comes from Him.
Not knowing what will happen with so many facets of our lives is unsettling. Parents wonder if their kids will be able to go back to school, and what will that look like. Many are worried about the security of their jobs and small businesses, or collecting unemployment. Peace I leave with you; my peace I give you. I do not give to you as the world gives. Do not let your hearts be troubled and do not be afraid (John 14:27  NIV). Our peace comes from Him.
When we feel overwhelmed with worry and fear we can dwell on His incredible love for us, and trust that He holds our lives in His hands. How great is the love the Father has lavished on us, that we should be called children of God (1 John 3:1a  NIV)! Love comes from Him.
Many people are grieving the loss of loved ones and friends who have succumbed to the virus. Our frail human hearts sometimes let doubt creep in, wondering how God could love us and let this happen. He heals the brokenhearted and binds up their wounds (Psalm 147:3  NIV). Blessed are those who mourn for they will be comforted (Matthew 5:4  NIV). Comfort comes from Him.
Whenever and wherever you are in this life, His Word is a gift to us, to comfort, encourage, and sustain us. We may not get all the answers we seek until we pass on to glory, but in this life, we can find comfort in God's promises.
Shay is a blog contributor, board member, and a lover of coffee and snow. She is married with three children.  You can read more from Shay here, or check out any of our Bible studies by tuning in to your favorite radio station, listening to our podcast on iTunes, or listening through TuneIn, Stitcher or Spotify online radio.